How Are We Celebrating Black History Month? Well, with history of course and we're doing it this year with an interesting twist so grab a cup of tea, relax and read and enjoy...but, first some brief history to set the stage.  
We know that western Africans were taken from the motherland during the slave trade and dispersed throughout the western hemisphere creating an African Diaspora. 
It may surprise you to know that more people of color were dispersed to the Caribbean Islands, Central and South America than to the United States! Current information from World Atlas, lists the countries with the largest African Diaspora in the millions as follows:
Brazil - 55.9 
United States - 46.4
Haiti - 10.1
Dominican Republic - 9.2
Colombia - 4.9
France - 3.8
Venezuela - 3.2
Jamaica - 2.8
United Kingdom - 2.5
Mexico - 1.4
Add up those numbers and that 's ALOT of people of color on this side of the world and this is why during Black History Month we're shift our attention from some of the same faces and talk about the fight and struggle – now don't get me wrong the struggle is real and the fight continues to go on – that's the world you and I live in🌎. 
I'm just going to change the focus a little to keep it interesting, educational above all keep ya'll informed with good information that you can share!  This year, I want to take a wider view of the legacy of people of color, specifically those from African descent (with roots) outside of the USA, who have had an influence  this side of the western world.  We are going to continue to celebrate and enlighten you with these "famous" people starting with the arts, an area where people of color are often imitated but rarely celebrated. 
Please note that this post contains affiliate links.  If you buy something I may earn a small commission and thank you in advance.  
Jean-Michel Basquiat
Despite his early death at in 1988, Basquiat achieved much in his short 27 years.  Basquiat started out as a graffiti artist in New York and is credited for bringing African-American and Latino experience to the western art scene in a more elite sense. His mother, Matilde Andradas was born in Brooklyn to parents from Puerto Rico. His father, Gerard Basquiat, was an immigrant from Port-au-Prince, Haiti. As a result of this mixed heritage the Basquiat was fluent in both French and Spanish as well as English. He is famous for his contribution in art by his collaboration with Andy Warhol and use of primitive style and Neo-Expressionism.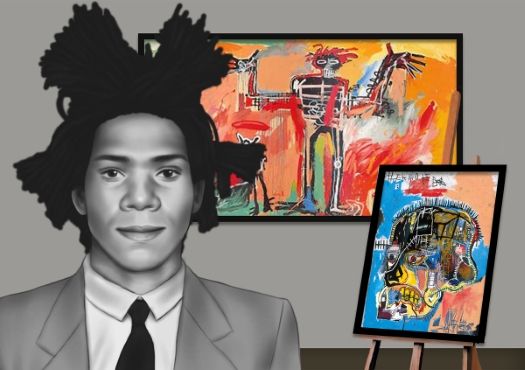 Basquiat's 1982 painting "Untitled, sold for $110.5 million at auction making it the most expensive work to be sold by an American artist!
Even if you don't have that kind of money yet, you can still enjoy Basquiat vibrant works of arts in your home or place of work. Click here to find wall art, textiles and more like my favorite piece of Basquiat -- you will love this collectable conversation piece coffee table book with Basquiat history and more of his art below:
(Note – Basquiat's style influenced this "local" self-taught artist Jammie Holmes.)
Now, let's look at some exciting works by Afro-Latina ladies, starting with Fabiola Jean-Louis! Let me say that if ya'll enjoyed Bridgerton (AND STILL WAITING FOR THE NEW SEASON NETFLIX, lol)  you will love the just as provocative "Rewriting History collection of Jean-Louis which includes the piece "Marie Antionette Is Dead" (okay we see you Fab  👑).  
Doesn't all this inspire your creativity?  If you haven't enjoyed a paint-and-sip class I would encourage you to go -- it's so relaxing and fulfilling. Ready to start explore your artistic inclinations with paints? 
Winter time can keep you indoors a little more so pickup an affordable watercolor kits or if you like the look and feel check out these acrylics paint kits.  Need some formal instructions and inspo, visit your local thrift store for books!  They got a ton!
Finally, let me present another another exciting contemporary young Dominican American artisit -- Tiffany Alfonseca.  I love the vibrant colors she uses. You can find more of her work like the one below on her website.
If I missed your favorite Afro-Latino artists put their name in the comment section below.   You can also reach me directly at the following:
Email: Rhonda@CurlAgain.com
PayPal: @RhondaDeyampert
Facebook: @CurlAgainOfficial
Instagram: (new page soon)
Website:  www.CurlAgain.com
I hope you enjoyed this and will share this with friends and family with a note to SUBSCRIBE for more articles and🤳🏽 ALLOW NOTIFICIATIONS so you don't miss out on news and helpful information and promos (like the one that just in the February email newsletter 😉) from Curl Again Natural Hair Scalp and Body care products with love!